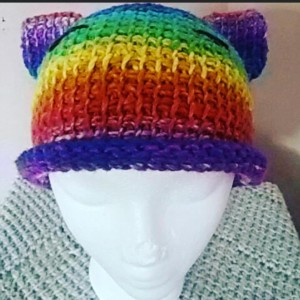 Winter is a dreary, grey time of the year. If you live up here in the Frozen North, then it's also dark early or not light at all, and bitterly cold. As I write this (Sunday, the 17th of January) it is -27 Celcius with a wind chill factor that brings the temperature down even further to -40 Celcius. For those in the USA, the Fahrenheit and Celcius scales balance at -40. Brrrr.
I make a lot of rainbow things in the winter because rainbows are bright and pretty, cheerful, and no one is going to steal my stuff from the coat closet at work.
I've wanted a kitten hat for a long time, mainly because someone told me that I was too old to be wearing one. This is a great incentive to walk around in public with little cat ears on my head, especially when this person has to be seen in public with me.
Supplies:
1 200m skein of Aran weight yarn in a self-striping rainbow pattern. This was done with Bernat Mosaic, which is discontinued. Any "heavy worsted" or "Aran weight" yarn will do.
6.0mm tunisian crochet hook with a long cable
Small amount of black worsted weight yarn to embroider eyes
darning needle
Notes:
This pattern is worked top-down in the round using the Magic Loop method of Tunisian crochet. The foundation chain is created and stitches are picked up from both sides of this chain.
After the hat is created, it is turned inside out and the corners are basted off with scrap yarn. Finally, the eyes are embroidered, and presto!! The cutest! hat! ever! This makes a super quick gift for any rainbow kitten fanatics.
Hat:
Chain 30. Working into the side of each chain stitch, pick up 30 loops. Push these loops onto the cable of your hook and then pick up 30 loops on the other side of the foundation chain. Join in the round as per the above tutorial. 60 stitches.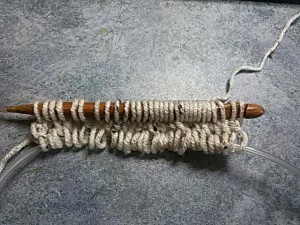 Working in the round, and using Tunisian simple stitch (Tss), work 24 rounds. Bind off. Weave in ends. The edge will roll. I left mine alone because I like it. If you don't like it, then consider working a round of single crochet ribbing or shells around the bound off edge. Or not, it's up to. I left mine as is 🙂
Ears:
Turn hat inside out. Mark off the corners for ears – about 7 or 8 stitches wide gives a good size ear. Using the same yarn that you crocheted with, and a darning needle, baste (sew very loosely) some stitches through the front and back of each ear. Pull tightly to gather, tie the ends in a knot and weave in. Turn hat right side out.
Eyes:
Using scrap black yarn and a darning needle, embroider eyes. I just made two lines.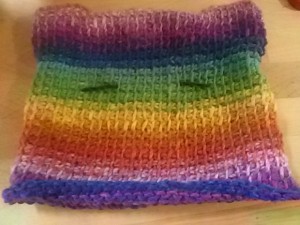 Copyright 2015 Nicole Cormier. 
You can make and sell items using my patterns but you may not sell the patterns. The patterns are free and traffic helps keep this site going, so please credit and link back to my patterns, do not post the pattern.